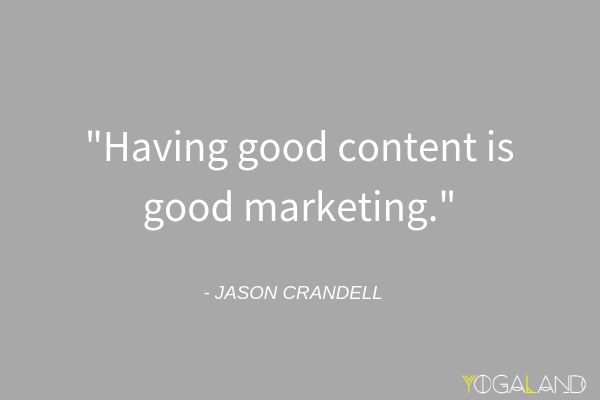 Like it or not, if you want to be a full-time yoga teacher today, digital marketing is a part of the job.
It doesn't come easily to everyone, but through the years Jason and I have figured out what works for us. In this episode, which was recorded at one of Jason's yoga teacher trainings at LoveStoryYoga in San Francisco, we share our best advice for yoga teachers who are trying to build a following online.
*Our best tips for creating consistent, authentic content for social media when marketing doesn't come easily. (Particularly, we talk about how to be a storyteller, solve a problem, and start with your wheelhouse, and turn that into content.)
*How to use social media to attract private clients, as opposed to a mass audience.
*When it might be smarter to focus on in-person marketing and networking instead of online
*An easier way to gather student testimonials for social proof
*Suggestions for people who aren't comfortable posting photos of themselves in yoga postures (and selfies in general!). Plus, Andrea's tips for taking better photos.
*Advice for teachers who want to expand their teaching online by making yoga videos available online
RECOMMENDED AND RELATED LINKS
Episode 101: Learning, Growing, & Thriving After Injury with Laura Burkhart
WRITE A YOGA PODCAST REVIEW
If you like the podcast, please leave a review or rating on iTunes! It makes it easier for others to find the podcast. If you don't know how to leave a review, here are some step by step instructions. Woohoo! So easy!
SHOUT-OUT TO OUR SPONSORS
1. LOLA is a female-founded company offering 100 organic cotton tampons, pads, and liners. For every purchase, LOLA donates feminine care products to homeless shelters across the U.S. For 40% off all subscriptions, visit mylola.com and enter the code YOGALAND40 when you subscribe.
2. Care/of is a monthly subscription vitamin service made from high, quality ingredients personally tailored to your exact needs. Their short quiz asks you about your diet, health goals, and lifestyle choices and uses these answers to create personalized vitamin packs just for you. For 25% off your first month of personalized care/of vitamins, visit takecareof.com and enter promo code YOGALAND.
3. Away is a new kind of luggage that is designed to be resilient, resourceful, and essential to the way you travel today. They use high-quality materials at a lower price point than other brands because they sell directly on the Internet. Try it out for 100 days, and if you don't love it return it for a full refund. For $20 off a suitcase, visit awaytravel.com/yogaland and use promo code YOGALAND at checkout.
4. Ohmme is a company that makes yoga and activewear clothing for men. The fit and function is phenomenal. Plus, their design and manufacturing process is sustainable since they use many recycled materials. For 20% off your Ohmme order, visit ohmme.com and use promo code YOGALAND20.
5. Storyworth makes it easy and fun for loved ones to tell their stories. Simply purchase a subscription for someone you love–like your father for Father's Day!–and each week Storyworth will send them a question about their life. After a year, stories are bound in a beautiful book. For $20 off, visit storyworth.com/yogaland when you subscribe.