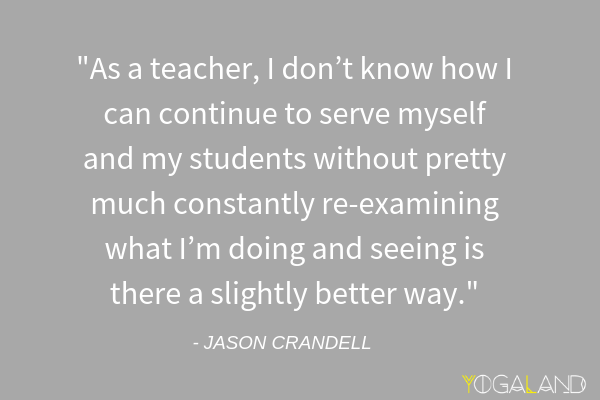 We're so happy to be back for Season 2!
There's that old adage, "Change is the only certainty in life." And it applies to your yoga practice and teaching, too. This week, Jason and I are talking about the internal challenges, doubts, and insecurities that come up when we're managing change in our practice.
We talk about:
* How Jason has changed as a student and a teacher throughout the years. He shares one transition that was particularly hard for him as a young teacher
* He gives advice for people who are hard on themselves after a shift because they feel disillusioned about some of the beliefs or techniques they were teaching previously
* Why Jason dislikes the word "master" (as in "yoga master") and what happened in his life that empowered him to start experimenting with changing up yoga traditions and sharing his findings with his students
* The struggles that come with the evolution of modern yoga in the social media age
* Why it's problematic for teachers to discourage their students from experimenting with other teachers and other ways of practicing
WRITE A YOGA PODCAST REVIEW
If you like the podcast, please leave a review or rating on iTunes! It makes it easier for others to find the podcast. If you don't know how to leave a review, here are some step by step instructions. Woohoo! So easy!
SHOUT-OUT TO OUR SPONSORS
1. LOLA is a female-founded company offering 100 organic cotton tampons, pads, and liners. For every purchase, LOLA donates feminine care products to homeless shelters across the U.S. For 40% off all subscriptions, visit mylola.com and enter the code YOGALAND40 when you subscribe.
2. Care/of is a monthly subscription vitamin service made from high, quality ingredients personally tailored to your exact needs. Their short quiz asks you about your diet, health goals, and lifestyle choices and uses these answers to create personalized vitamin packs just for you. For 50% off your first month of personalized care/of vitamins, visit takecareof.com and enter promo code YOGALAND50.