Shameless Plug: Enrollment for my 300-hour Training at Love Story Yoga in San Francisco, starting in February 2018 is open! Also, if you're not listening to Yogaland… get with it. Listen here.
If you're not a yoga teacher, you probably don't understand the utter ridiculousness of our daily commute or schedule inefficiencies. Yes, we're happy that we rarely sit at a desk for 8+ hours a day. And, sure, having weird times like from 2:00pm to 3:45pm off most days is nice (sort of). But, the reality for most teachers is that we're hustling from here to there to teach our classes, sub other teacher's classes, and (often) making ends meet by working a second job. Jumping from studio-to-studio and class-to-class can fray our nerves. This makes it difficult to settle in and be present for our students.
Over the years, I've acknowledged that, for most full-time teachers, this is an inherent part of the job. For me, I've acknowledged that 30+ weekends of the year, I will do something very similar: I'll wake up before 5am, fly for hours before arriving in another city (usually in a different time-zone), commute to the studio and go straight into teaching a weekend workshop. I've learned to manage these realities more skillfully so that I'm as relaxed and focused as I possible.
I know that if I'm relaxed, focused, and prepared I'll be present and I'll teach a class that makes me feel good. These days, I have conscious strategy to settle in before class starts—even if only for a moment or two. Here are my four tips to check your head and make sure you're ready to teach class.
Take a Moment to Observe Your Body, Breath, and Mood
Let's face it, we bring ourselves into the yoga room when we teach. Yes, it would be nice to say, "I check myself, my ego, and my issues at the door." But, the truth is that we usually don't. Not completely, at least. So, pause for a moment before you teach—before you reach the studio if possible—and become aware of what is happening inside of you. If you're unaware of what's happening inside of you it's more likely that your unconscious patterns will influence your class.
For me, the most common scenario where this plays out is when I'm jetlagged and fatigued. Usually, when I'm in this state I feel flat and I overcompensate by talking too much and making things unnecessarily complicated. Since becoming aware of this pattern, I've gotten better at realizing that I'm in a state where I'm likely to overcompensate to everyone's detriment. Now, I can usually stave this off by relaxing and simplifying.
Focus on What You've Been Practicing Lately
I'm going to tell you something that most teachers won't: my personal yoga practice is only vaguely similar to the classes I teach these days. I practice diligently. I have for a very long time. And, for the first 10-15 years of teaching my personal practice and my classes were nearly identical. I needed the time my personal practice provided me to prepare for my classes. Now, however, when my personal practice is too similar to my classes, it feels like I'm at work. I love my work. I love my practice. I just don't love when my practice feels like my work. I did in the past. Now, I don't.
These days, I focus on subtle details in my personal practice more than ever. For example, I might spend a couple of weeks in my personal practice figuring out how to decompress the superior/anterior part of my hip socket in every posture. I'm going to translate all this work into my public classes, but I'm going to do it subtly. I'm going to distill the key things I figure out in my personal practice into viable, easy-to-access instructions. I'm going to make whatever I'm doing in my personal practice a thematic and sequencing focus in my public classes. But, I'm also going to make sure that my public classes have a really solid, compelling flow that covers additional territory my personal practice may not.
So, here's the bottom line: Your practice doesn't dictate what you're teaching, but it will inform what you're teaching. We're teaching an embodied practice and you need to be doing practices that keep you attentive to your body. As you develop your plan for class, begin with what has been resonating in your practice lately.
Have a Plan—Even if it's just a Feeling or an Idea
Some teachers operate best with a clear, detailed plan for class. Other teachers are better with improvisation. Both models can work&emdash;and, usually, most teachers combine the two. Whether you're a planner or a gunslinger, it is essential that you treat the class like a learning experience for your students and have an idea what you'd like your students to take away from their experience. Sure, you can leave yourself open to changing your plan, but have a theme, pace, and intention in mind before class begins.
Even better, make your classes part of a broader syllabus that reflects the body of work that you're trying to teach as an educator. Creating a syllabus takes effort and time. But, it also helps you clarify your teaching objectives and builds confidence. Ultimately, having a plan&emdash;even if it's just an idea or feeling that you want to communicate to your students&emdash;will make the experience of teaching easier and more effective.
Be a Good Host
Imagine that teaching a class is like hosting an event at your home where each participant has to pay $15-20 to participate. If you were the host of such an occasion you'd default to basic social protocol and be nice to everyone and introduce yourself. Remember to follow these basic rules for making people feel welcome in your presence when you teach. While you're at it, do your best to learn your student's names. Believe it or not, most students don't feel terribly comfortable coming to a class if they don't already know you. Students are often intimidated and somewhat intrigued by the teacher. Spend your energy putting them at ease. Not only is this the reasonable and humane thing to do, it will help you settle and focus on the students who are in your classroom.
4 comments
Add Your Own
---
---
First, a shameless plug: Registration for my 2018 Teaching Trainings is live! If you want to move your practice and teaching forward, this training is the place to do it!

QUESTION
Vinyasa yoga sequences contain much more hamstring stretching than strengthening. How can I modify my sequences to include more hamstring strengthening for my students and promote more safety and balance in this muscle group?
ANSWER
It's true that vinyasa yoga sequences are heavily skewed toward stretching your hamstrings and rarely contain focused strengthening work. You stretch your hamstrings in every Sun Salutation, Down Dog, Standing Forward Bend and most Standing Poses. That's not to mention the intense opening that you get in postures like Hanumanasana, Reclined Leg Stretch, and most Seated Forward Bends.
There's a psychological factor that often exacerbates this dynamic: many students push too hard and overstretch this muscle group due to the (often unconscious) internalized belief that more flexibility is always healthy and desirable. Unfortunately, this deeply ingrained mindset can lead to one of the most common and frustrating injuries for a yogi: hamstring tears.
So, what can you do to bring greater integrity to this muscle group while maintaining a dynamic flow practice? Let's look at the essential anatomy of the hamstrings. Then, you'll learn to take one simple step in your sequencing to bring greater harmony to these muscles.
THE ESSENTIAL ANATOMY
The hamstrings are a comprised of three muscles: the biceps femoris, semimembranosus, and semitendinosus. They run from the sitting bone down the back of the thigh before crossing the knee and attaching to the lower leg. Their primary job is to extend the hip and flex the knee.
THE SEQUENCE
The best ways to modify your sequencing is to incorporate specific hamstring strengthening postures into your flow. Assume that your vinyasa sequences already have enough hamstring openers and include more strengthening poses. If you prioritize hamstring strengthening and provide your students with variations, you can create a balance of hamstring flexibility and strength.
I incorporate all of the following postures in most of my classes to bring more awareness, support, and stability to these often overstretched tissues. It's a good idea to repeat these postures a few times in class and make sure that you hold them long enough that you feel the muscles working.
Natarajasana (Variation)
Most variations of Natarajasana focus on opening the front body. In this version — which isn't nearly as pretty, by the way — I want you to focus on engaging the hamstrings. It's like a hybrid of Warrior III and Natarajasana. While standing in Tadasana with your core engaged, raise your right heel toward your sitting bone and move your thigh back. Keep your core intact and maintain the natural curves of your spine as begin. Once you've raised your leg, tilt your pelvis forward over your standing leg and lift your chest into a modest backbend.


Hamstring Curl
Let's face it: none of the postures in this sequence are sexy. These are not big, flashy poses that are going to build your reputation in social media. They are, however, the postures that create stability and strength in an often-overlooked region of the body. To do this Hamstring Curl, simply come to  Table Top position. Engage your abdominal core to keep your lower-back fixed (immobile).  Keep your left knee bent 90 degrees, flex your foot and lift your thigh toward the ceiling. As you raise your thigh, bring your heel closer to your sitting bone. Do not allow your lower back to increase it's curve. It's okay to have a natural  lumbar curve, but don't allow your lower back to sink toward the floor. Feel your hamstrings working diligently as you breath deeply.


Locust Pose
In backbends, we usually internally rotate the thighs. This version of Locust Pose is an exception. In this version, you will externally rotate the thighs and bring you inside of your feet together. This combination of actions strongly engages your hamstrings, adductors and external rotators. It's an ideal strengthener that balances many of the muscles that tend to be overstretched in yoga. Since Locust Pose is low-range of motion pose, it's permissible to internally rotate the thighs instead of externally rotating them. If this were a backbend with greater range of motion–like Bridge Pose–I wouldn't recommend externally rotating and adducting the thighs. I would stick to the more common teaching of internally rotating the thighs and keeping the thighs parallel to each other.


Locust (Variation)
Continuing down the road of highly-functional postures that are not glamorous in the least, we have another version of locust. This asymmetrical version of locust is unique in it's ability to create diagonal strength in the back-body. Meaning, you strengthen one set of calves, hamstrings, and glutes, while strengthening the opposite paraspinal and shoulder muscles. Remember, this is how the body moves: in diagonal, rotational motions. This makes this Locust Variation one the organic, functional way to strengthen your hamstrings–and, the other muscles of your backbody.


This post was originally featured on yogaglo. Please visit yogaglo.com where I offer online classes as well as e-courses focusing on sequencing and anatomy.
18 comments
Add Your Own
---
---
First, a shameless plug: Registration for my 2018 Teaching Trainings is live! If you want to move your practice and teaching forward, this training is the place to do it!
QUESTION
Some teachers tell students not to "squeeze" or "grip" their gluteal muscles when backbending because this will compress the sacrum and lower back. Others say that it's essential to use the glutes in backbends. What do you recommend?
ANSWER
First, let's acknowledge that different students may benefit from slightly different actions in any given posture. So, the most accurate way to answer this question is to say that most students will benefit from engaging their glutes in most backbends. Here's why:
THE ESSENTIAL ANATOMY
The gluteal family is composed of the gluteus maximus, gluteus medius, and gluteus minimus. When teachers talk about engaging the "glutes" in backbends, they're referring to the gluteus maximus. When we engage the gluteus maximus—particularly the lower fibers near the hamstring insertion—these muscles extend the hip-joint. This is a good thing because we want the hips to extend slightly when we do backbends in order to help decompress the lumbar spine. Gluteal engagement also helps stabilize the sacroiliac joint—which is valuable because so many long-time yogis have hypermobile and unstable SI joints.
But, let's answer the question with a little more nuance since some backbends are enhanced by gluteal engagement and others are not. Prone backbends like Locust and Cobra Pose probably don't benefit as much from gluteal contraction because the weight of the pelvis rests on the floor during these postures. This means that you don't need gluteal strength to lift the pelvis because it stays on the ground in the pose; you also don't need the stabilization that the glutes provide because the pelvis is supported by the floor.
In kneeling backbends like Camel Pose and supine backbends like Bridge Pose and Upward Bow Pose, gluteal engagement is more helpful. These postures produce a greater degree of spinal extension so it's even more important that the pelvis and spine move cohesively. Engaging the glutes near the hamstring insertion, will help maintain this balance by rotating the pelvis slightly back over the top of the legs. This will help reduce lumbar compression—the feeling of your lower-back "crunching." Even more, the glutes help lift the weight of the pelvis in supine backbends. If you don't use the glutes in these postures, you might unnecessarily burden less efficient muscle groups.
Some teachers and students are concerned that using the glutes will make the knees splay too far apart. This is a legitimate concern, but it's easily managed. All you have to do in this situation is co-contract the muscles that line the inside of your thighs, the adductors. Firing the adductors while you engage your glutes will keep your thighs nice and neutral.
THE SEQUENCE
In the poses that follow, the prone (face-down) backbends are instructed with passive glutes, whereas the kneeling and reclined backbends are instructed with active glutes. I encourage you to experiment in these postures and observe what works best for your body.
Locust Pose
Lie down on your belly. As you exhale, lift your upper-body away from the floor. Root down through the top of your feet and ground the top of your smallest toe. Keep the glutes passive and focus on the work of your spinal muscles.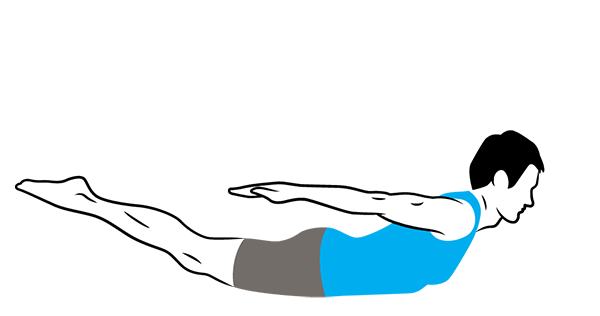 Cobra Pose
Again, start on your belly. Place your hands on the floor on either side of chest. Press down through the tops of your feet and your pubic bone as you partially straighten your arms. Draw your shoulder blades down your back and hug your elbows toward your sides. Keep your glutes passive and allow your spinal muscles and arms to guide you into the posture.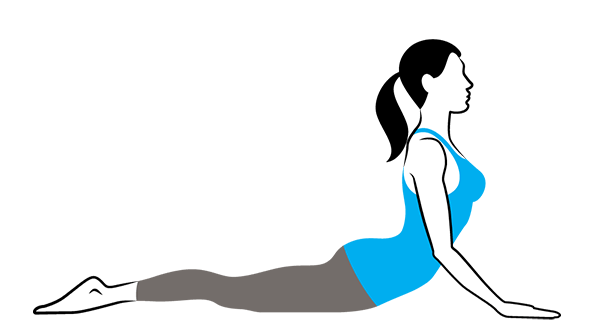 Upward-Facing Dog Pose
Come into Upward-Facing Dog from Chaturanga. Once you're in Updog, allow the glutes to be relatively passive. Focus on grounding down through your fingers, hands, and feet while lifting your thighs, hip-points, and chest.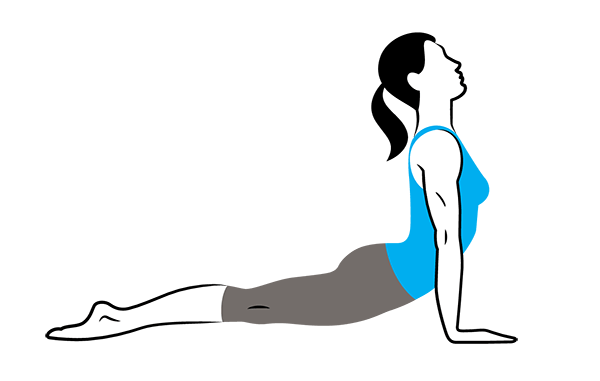 Bridge Pose
Lie on your back, bend knees and place your feet flat on the floor, close to your hips. Separate your feet hip-width. You can either keep your arms by your sides or clasp your hands underneath your buttocks. Press down through your feet and raise your hips. Your glutes will fire to help raise your hips. Gently engage your inner legs by imagining that you're squeezing a block between your thighs.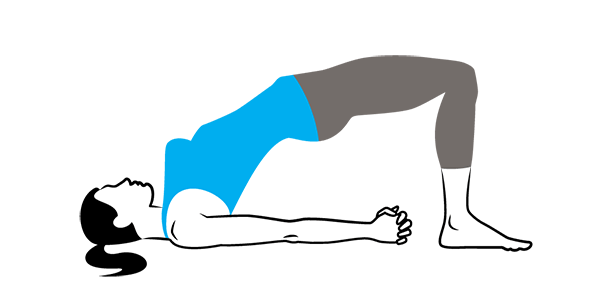 Camel Pose
Kneel on your mat and touch your hip-points with your finger tips. If you have a block, place it between your inner thighs. Lift your hip points up and lengthen your tailbone down. This action will begin to fire your glutes near the insertion of the hamstrings. (One of my teachers, Richard Rosen, calls this part of the glutes the LBMs, or lower buttocks muscles.)
Take your hands to your heels, lift your chest, and lengthen your breath. If there's a block between your thighs, squeeze it firmly. This engages your adductors and keeps your thighs parallel to each other.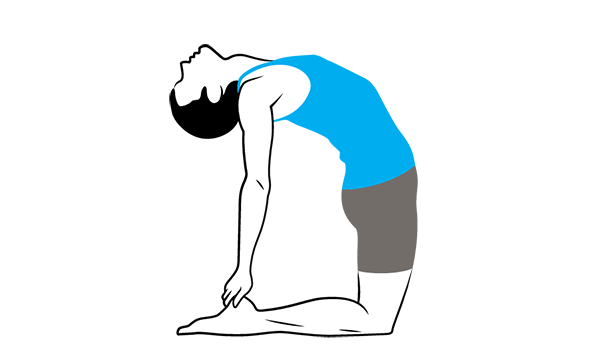 Upward Bow Pose
Lie on your back like you did for Bridge Pose. Separate your feet hip-width. Lift into the posture on your exhalation. Once you are in the posture, bring your awareness to your glutes. Given the demand of the posture, your glutes will be firing. Feel the support that they're providing while being mindful to simultaneously engage your inner thighs by hugging them toward your midline.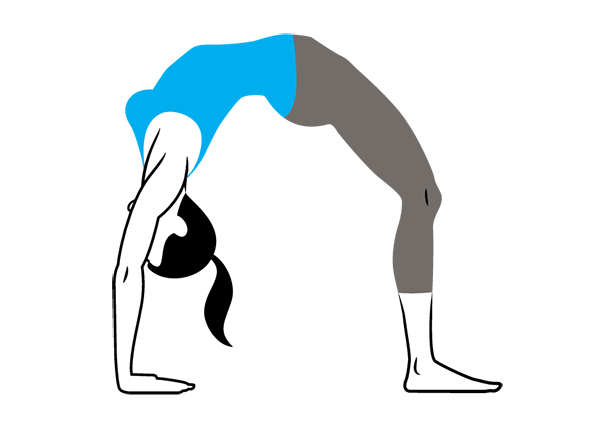 This post was originally featured on yogaglo. Please visit yogaglo.com where I offer online classes as well as e-courses focusing on sequencing and anatomy.
3 comments
Add Your Own
---
---
The Yoga Hustle (n.): A phase at the beginning of one's teaching career or upon arrival in a new city; a period in which a yoga teacher takes on every possible class that his/her schedule will accommodate.
Thanks to Instagram, we have a clear image of the 'leisurely yogi lifestyle' that becoming a successful yoga teacher can yield. Never mind that the scantily clad beach asana photos in no way reflect the reality of daily life. Nevertheless, social media is actively shaping our collective vision of what being a yoga teacher looks like and giving us a false sense of the work involved.
Don't fall for it, and certainly don't quit your well-paying job and jump into teaching yoga with the hopes that it will lead you to life on the beach, free of responsibilities. If you are going to quit your job to become a yoga teacher, do so because you love to teach and want to share the practice, period. Because, you will most certainly go through a period of The Yoga Hustle and it looks something like this:
— Wake up at 6:30am to sit on your meditation cushion for a handful of minutes and get in a brief home practice before you rush out the door to teach the first of several classes that day.
— Between classes, zigzag across town to coffee-shop-nearest-next-class and buy an almond milk latte in hopes that it will help you drop into writing some social media posts. But with only 30 minutes until the next class, you get sucked into perusing not posting on Facebook/Instagram/Twitter, which only feeds your anxiety.
— Get home between 9:00 and 10:00pm with just enough energy to dig something out of the fridge and shower before you fall into bed comatose.
Why Do It?
Let me be clear: The Hustle is a very real phenomenon. It's also a necessary part of becoming a full-time yoga teacher. This period demands your time, your energy, and your focus in order to sharpen your teaching blade and make your mark in the face of talented and plentiful competition. It is a right of passage that centralizes around one theme: Do Your Work.
If you make the – ahem – "economically sound" decision to become a full time yoga teacher, The Hustle is your chance to get your name out there and build a following. Making a living teaching yoga is a numbers game, and the one true key to success is a strong and consistent student base. Teaching as much as possible not only gives you exposure, it also provides an opportunity to try on different studios and different times of day to get a better sense of when and where feels like a good fit. In other words, it gives you a chance to find your people.
In order to survive, however, it is important to remain grounded in the purpose this period serves, to get clarity around your expectations and boundaries, and to become unrelenting in your commitment to self-care. Like we do with the mind through our yoga practice, we must learn to yoke The Hustle, for if left unrestrained, it can quickly become an all-consuming force that sends us headfirst into burnout.
The Burnout Phase
Burnout isn't just an adjective. It is a real condition with real psycho-emotional and physiological effects. Those of us prone to "I can do everything" thinking (read: "Sure, I can teach more!") are most susceptible, and we often don't see it coming. For those of us in The Hustle, it often happens because we prioritize teaching and let self-care become a matter of "if there is extra time." (There never is.) We wake up one day, haggard and foggy brained and coffee-dependent, and realize that we haven't actually done our own practice in weeks – or even months. We start to teach go-to sequences because we don't have the time or mental capacity to think about content, which quickly becomes boring. And then we start to resent our work.
If we let The Hustle take over our lives, burnout becomes inevitable. Just as simply, however, we can pull on the reigns and steer The Hustle to make it a manageable and even enjoyable experience.
Keys to Surviving
1. Make a road map. If you enter The Hustle without a clear goal (read: exit strategy), you have no hope of escape; rather, you will run from studio to studio endlessly and grow weary in the process. Get clear on what you want to be doing one month, six months, one year from now, and make a plan of action to start you moving in that direction. Figure out how much on average you need to make per week to live comfortably. (Yes, yoga teacher, you need to behave like the sole proprietor you are and have a real notion of the financials of your small business.) Using that number as a baseline, write out your ideal schedule. Which of your current classes do you love? Which yield consistent turnout (i.e. revenue)? Which classes do you find draining? Figure out how far you are from both your target number and your ideal schedule. Over time, start to make shifts in this direction. Be sure to block out dedicated admin time in your week and don't waiver when the tempting subbing opportunity shows up.
2. Be authentic in your teaching. Trying to do what others do the way they do it is draining and unsustainable in the long run. Get clear on your purpose and let that be what guides your teaching, in terms of content as well as context. In his trainings, Jason always asks students, "If you could teach one thing, what would this be?" The answer to this question is rarely "Handstand." How do you want students to feel when they walk away from your classes? What take-away do you most want to share about the practice? The more you can stay connected to this, the more meaningful your teaching will feel. And don't get distracted by the paths that your peers are taking; you are you and you have your own gifts to share.
3. Consistency will save your sanity. Another Jason-ism: Don't be afraid to teach the same sequence all week – or all month! Teaching the same sequence saves you some brain space and it gives you the chance to refine the sequence over time. It also allows the students the opportunity to drill, to repeat, to learn. How novel.
4. Make time for self care. Time can't be found. But you can choose to prioritize your health and well-being to avoid burnout. Create and commit to some easy non-negotiables that will help nourish and replenish you. Hike on Saturdays. Schedule a massage (and keep the appointment). Have a bedtime and stick to it. Do the things that feed your body, mind and soul — things that you enjoy doing – so that you have an easier time setting boundaries and saying no to things that aren't serving you.
5. Be a student. Stay inspired. You are a yoga teacher now. Make your practice part of your job. Many of us become yoga teachers because we love to practice yoga – but like Jason always says, just because you like to eat food doesn't mean you should open a restaurant. In other words, practicing yoga and teaching yoga are two very different experiences. It is this realization that sends most of us crashing into the burnout wall. Don't let your practice fall by the wayside. You need to feed the fire that set you on this journey in the first place.
Mira Valeria is a San Francisco-based Yoga instructor and the founder of Santa Fe Thrive, an indoor cycling and yoga studio in Santa Fe, NM. She is a writer, translator and wanderlust polyglot. She is available for private lessons, workshops, teacher trainings and interpreting gigs around the globe.
4 comments
Add Your Own
---
---
First, a shameless plug: Registration for my 2018 Teaching Trainings is live! If you want to move your practice and teaching forward, this training is the place to do it!
QUESTION
I struggle with tight hips and I want to learn Lotus Posture (Padmasana). Can you suggest a sequence that will help me open my hips and do Lotus Pose?
ANSWER
There's a common mistake many of us make when trying to grow a Lotus: We focus too much on stretching the outer hips and forget to open the other muscle groups that make up the hip joint. Don't get me wrong: the outer hips usually need plenty of help. But, the key to freedom and balance in your hips is working with all the muscle groups that affect the joint, not just your bum. The following sequence will make your hips be happier and healthier — and, if anything is going to help you sit in Lotus, it's this practice.
THE ESSENTIAL ANATOMY
There are a couple of things to understand about your hips in order to approach them skillfully in your practice. First, your hip joint (coxal joint) is a ball and socket. This is simple enough, but it has big implications. It means that your hip joint is 360 degrees and has muscles around the entire circumference that produce motion in the joint. In order to create a balanced hip opening sequence you need to address all of these muscle groups. Be sure to target each of the following muscular compartments:
Hip Flexors
These muscles cross over the front of your hip joint and flex the hip.
Adductors
These muscles that line the inside of your upper thigh are usually left out hip-opening sequences. If these muscles are tight, your knees will remain far away from the floor when you attempt Lotus. These muscles need to be supple so that the thighs can drop as you fold your legs into Lotus.
Hamstrings
The hamstrings are not a significant factor in Lotus and they're not usually thought of as hip muscles. However, they originate on the bottom of your pelvis, cross the back of the hip socket, and run down the back of your leg. The primary joint that they work on is the hip joint. This means that a balanced hip opening sequence will include postures that release this group of muscles.
External Rotators and Gluteus Maximus
Describing the Gluteals and their functions in a few words is tough because this family of three muscles does a lot of different work. Suffice it to say that we tend to think of this region when we think of hip openers. This is the bittersweet part of the body that we stretch when we do Pigeon Pose.
Abductors
Targeting this region is another key step in releasing hip tension and developing Lotus. These muscles run from the outside of the hip, cross the outside of the hip joint and attach to the outside of the thigh. Since this region is harder to get good leverage on than the external rotators, it is often short-changed in hip opening sequences.
THE SEQUENCE
It's a good idea to warm up for this sequence with 5 to 15 minutes of Sun Salutations.
Modified Anjaneyasana
Focus on rooting down through the top of your back foot and lifting up through your hip points to get the most from this hip flexor opener. Maintain mild abodominal engagement while you do this pose.
Low Lunge Quad Stretch
This posture continues the hip opening that began in Anjaneyasana and digs deeply into the quadriceps.
Prasarita Padottanasana
This wide-legged standing forward bend stretches your hamstrings and adductors. It also prepares you for the more intense squat that follows.
Malasana
This is the most effective standing posture for releasing tension in the adductors. Use forearms to press your thighs away from the midline to intensify the stretch.
Pigeon Pose with a Twist
This version of Pigeon will help you access part of your adductors and external rotators and lead to more comfort in Lotus. To be effective, lift and turn your torso toward your front leg. Use your hand to pull strongly against your front knee.
Ankle-to-Knee with a Sidebend
To make this posture most effective, be sure to place your top ankle on your bottom knee and flex your foot.
Padmasana
I don't think of Padmasana as a "hip-opener." I think of Padmasana as a posture to sit in once your hips are open. Unlike the previous postures, Padmasana doesn't use effective leverage to stretch the muscles of you hip-joint. In fact, the leverage induced through your shin bones in this posture is more likely to stress your knees than your hips if your hips are restricted. With this in mind, here is a step by step approach to folding your legs into padmasana:
Start with both legs straight in Staff Pose.

Bend your right knee deeply and bring your right heel to your sitting bone. Do NOT simply bend the right knee and drag the foot into Half Lotus. Instead, fully flex the right knee first–without externally rotating it.

Now, that your right knee is fully flexed, externally rotate and abduct your right knee. Then, bring your leg into Half Lotus.

If your right knee is comfortable in Half Lotus, proceed to Step 5. If not, take your leg out of lotus and work on any of the above postures that felt the most necessary.

If your right knee is comfortable in Half Lotus, bring your left leg into Full Lotus.

Make sure to place your feet high enough on your thighs to prevent your outer-ankles from over-stretching.
This post was originally featured on yogaglo. Please visit yogaglo.com where I offer online classes as well as e-courses focusing on sequencing and anatomy.
1 comment
Add Your Own
---
---